Client Profile
Interparfums, is a French-based company engaged in the design, manufacturing and marketing of fine fragrances for many brands. They include Burberry, Boucheron, Burberry Beauty, Jimmy Choo, Lanvin and Montblanc among many others.
The PowerPoint Design Challenge
Interparfums had a speaking slot in a high profile international trade fair, the Roma International Estetica. Roma International Estetica, where the leaders of the beauty industry gather, is dedicated to aesthetics and wellness. The client wished to present an engaging and memorable PowerPoint presentation to the high profile participants. Their intention was to showcase their thought leadership on how to engage Chinese Millennials in this age of declining retail in the western hemisphere.
The team had a speaking time of 30 minutes and were facing an audience of 200 in a fairly noisy trade show environment.
The Solution
We identified the key challenges of this project was to sustain the attention and interest of a large generic audience. For the opening sequence, we created a hard-hitting music video sequence chronicling the history of retail and the client's compelling vision (click on the video below to see it).
We positioned the branding of the client as a fine perfumer by using blooming flowers.
We clearly understood the client's narrative to present a retail and marketing model that was targeted to digital-savvy Chinese Millennials. We integrated this business narrative into every aspect of the PowerPoint design by depicting the look and feel of "social media platforms" in the PowerPoint presentation deck.
Conclusion
In this PowerPoint design project, we combined strategic thinking skills, strong copywriting and stunning visuals to craft a captivating presentation for Interparfums to to tell their story and inspire people to act.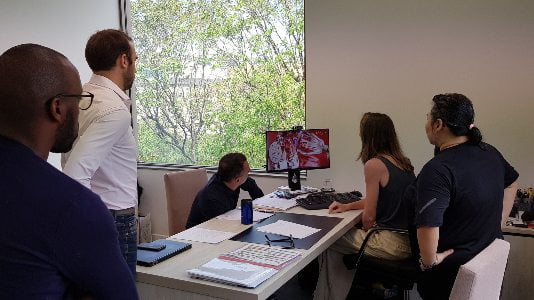 About Ji9saw Design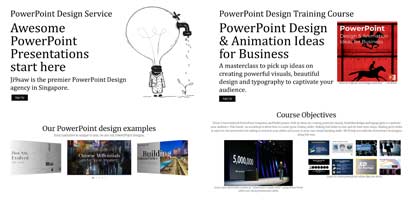 Ji9saw is the premier PowerPoint Design agency in Singapore. We help C-suite executives and business leaders craft, design and deliver vibrant PowerPoint presentations for any event. We also teach a PowerPoint Design masterclass in Singapore.
Ji9saw is now on Instagram!
So take a look and follow us on www.instagram.com/ji9sawdesign.